LIVING THE DREAM

When I tell Americans people where I live, I invariably get a barrage of responses. "You live in Paris?"
"Did you move there for a man?"
"You're dating someone there, aren't you?"
"You used to date someone there, didn't you?"
"Wow, you're brave!"
"I always wanted to do that."
"But we're American.  We don't move."
That last one always makes me laugh.  I'd like to tell it to the thousands of expats living abroad in France, and if I had a euro for every time I heard one of these exclamations, I could buy a nice bottle of champagne to toast such a great personal achievement.
The simple truth is, I moved because I could.
During the Lance Armstrong years, I rediscovered my passion for cycling and fell in love with the spectacular scenery on television while watching the Tour De France.  And ze French, pff... they really have a knack for living well.  Their food and wine is a wonder unto itself, but they still maintain the daily niceties and rituals that many of us in the States - especially in the larger cities - often forget in our self-absorbed, electronics-obsessed culture.  (I'm guilty.)
Yes, it was a dream to live overseas.  I had thirteen foreign pen pals as a kid.  As an adult, I lived in ten different U.S. cities (more later).  It seemed only natural to take it one step further.  I'm a flight attendant now and lucky to have the opportunity to travel overseas.  Several of my coworkers commuted to foreign lands, so why couldn't I?  Alright, my French was rusty, but I'd taken lessons throughout high school and for a hot minute in college.  Not wanting to lose my skills altogether, I began to work to Paris and get to know the city while I used creative visualization, dated a Frenchman in New York and sat on the idea of moving there for two years until I was single and found the perfect home the chips fell into place.  Et voilà!  I packed up, grabbed the cat, and left.
It was at once the most difficult and most liberating thing I did in a long time.
French bureaucracy is without a doubt legendary for good reason.  Sure, I spoke SOME French, but I had to learn "electric company" French, and "cable company" French, and "I have a leaky hose underneath my kitchen sink" French.  For months, I felt like a hamster spinning on a wheel trying to navigate the system but, through the good graces of an angel of a friend, a stubborn streak and perseverance, I now live in a fabulous studio in a desirable neighborhood with a petit view of Notre Dame and I can post this blog to you through my fancy high-speed internet machine.  Best of all, when July rolls around, you can catch me wearing yellow and exploring the French countryside as I follow le Tour.
If cycling was the first thing that got me to notice France again, then the food held my attention.
Julia Child commented in her book 'My Life in France' that she never knew what chicken tasted like until she moved to the gourmet capital.  Baguettes, macarons, cod fish stew and rabbit.  Yes, please!  I watch YouTube videos.  I take a class.  I make like Julia... taste every tempting morsel and attempt to recreate many in my small, deal breaker-of-an-apartment-search Parisian galley kitchen.  Sometimes I fail.  Sometimes I make something truly delicious!  I do it because I can.  I do it because it makes me feel good.
So don't wait until you're 80.  If you're 80, don't wait till you're 90.  Treat yourself well.  Trust in the faith of your passions.  Go out and do something you thought totally beyond your reach.  You owe it to yourself to taste something delicious.  You owe it to yourself to feel good.
Meanwhile, let's all have a macaron!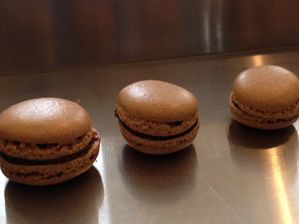 A multitude of cooking classes await the enthousiastic foodie.  You can spend as much or as little as you can afford.  You may decide to focus on bistro style menus or spend months perfecting the simplest of baked goods.  Websites like Living Social (link) offer discounted single day lessons like the one I found for macarons at Creative Cooking Studio in the Marais.  If you can't make it to Paris for the little hamburger cookie, that's okay!  I'm sure they're just as heavenly in Paris, Texas.  Don't be afraid to seek out pastry shops and lessons in your home city, study a tutorial for how to make them on YouTube, or order macarons online.
You can live vicariously or live your dream.  Find your passion and live your Delicious Destiny.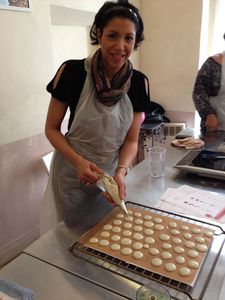 Order macarons online:
Visit shops in New York City:
OK, she may not be in Paris, but you can find Susan's macarons in Houston, Texas:
Order online or visit a shop in Los Angeles:
Campy online tutorial from a Brazilian macaron goddess:
À la prochaine...