CHASING THE ALBINO PEACOCK
Last week I indulged my addiction on Pinterest and spied a photo of a beautiful, rare albino peacock.  Captivated, I clicked over to Wikipedia to study up and Googled pictures till one popped out, then posted a hysterical shot of a normal bird having a WTH moment with his albino cousin.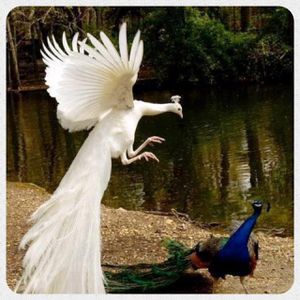 (Photo courtesy: unknown, via the web) 
I hoped to get a few laughs from Facebook friends and sure enough, the picture sparked the sort of OMG comments I expected.  What was unexpected, though, was for these two crazy birds to strike a nerve of inspiration in one of my colleagues who relayed that every week in Washington D.C., she passed by the promotional poster of a museum's Japanese painter exhibit, but never bothered to slow down long enough to view up close in fear of causing a car crash.
"You should do it!" I pushed.
A few days later, Cara (not her real name) tagged me in her own photo to inform me she'd been driven, literally, to pull over and take a "pic of the pic".
"Another accident waiting to happen," she triumphantly proclaimed.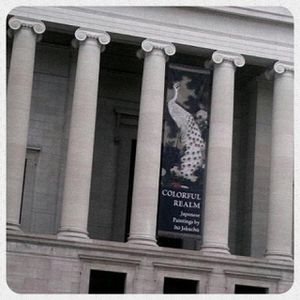 (Photo courtesy: Cara)
Well, if Cara was so inspired to capture the albino peacock, I had to venture out in the rain and revisit another tidbit I researched that day on Wikipedia: The Oldest Tree in Paris.
Two years before I moved to the City of Light, I began casing the neighborhood scouting the Latin Quarter when I stumbled upon an adorable park on the left bank, Square René Viviani-Montebello, right across the bridge from Notre Dame.  It's in plain view of, yet a sheltered haven from the throng of tourists that often swamp the area.  I began to take breaks there during my walks, enjoying the street scenes from a distance, and munching on pâtisserie or a sandwich du thon crudité from nearby Eric Kayser bakery.
OK, so pretty much EVERYthing in France is mature compared to our fledgling America, but I had no idea I rested under the oldest tree in the city, planted way back in 1601 [link] and no less than a five minute walk from my future home.
Since then, I have walked past that square fifty million times (really!) and even seen tourists posing in front of the arbre, but I always assumed they were capturing the vista of the cathedral in the background.  I never considered to discover why two curious concrete columns held up the ancient Robinia.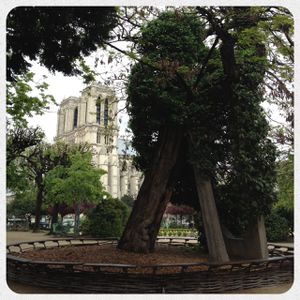 Pff... Tourists.
What did I know?
Here I was taking for granted this simple treasure and it was practically in my own backyard.
"It's just a tree," you say.
Yes, it's just a tree but it's a tree that's survived 175 years longer my home country ever existed!  What else have I ignored or said I'll "visit tomorrow" or "wait until someone comes to visit", and never done?  Do I want to continue this pattern or go out in the rain and see a tree?  I'll grab my parapluie and go see a tree, thank you.  I'm glad it's there.  I'm grateful that the Saint-Julien-Le-Pauvre church elders have allowed this exceptional black locust to flourish.  Centuries have passed in its wake.  What stories would it regale?  What wisdoms would it impart?
I like to think that old tree would tell me, "Thanks for stopping.  Come back and sit a while."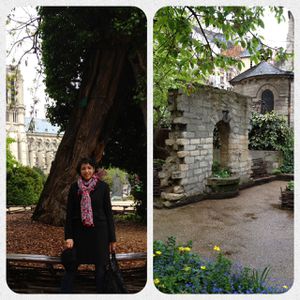 Once in the square, as if meant to be, a brief pause in the rain allowed me to take in the ambience and a kind stranger captured this photo for me before it started to pour again.  I ran around the corner and sought refuse at another neighborhood gem I often passed but never frequented.
Surrounded by books and drawings and cloud-painted ceilings, La Fourmi Ailée tea shop is my kind of place.  Why I thought I never deserved to go or should wait for a more special time, I'll never know.  It was miserable and grey outside.  Today was my "rainy day"!  The fairy in the window beckoned me to step inside to be enveloped by something pretty.  Soon after sinking into a booth, the waitress greeted me with a cheery,"Bonjour!"
....I knew at once, I'd go back and sit a while.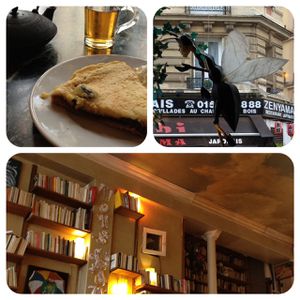 (Tea and tarte aux citrons et prunelles at La Fourmi Ailée)
À la prochaine....